Happy 30th Birthday Box Hill Community Arts Centre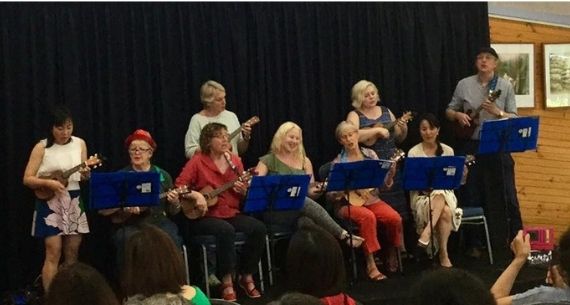 BHCAC is a great place to learn, teach, and play Music.
Our BHCAC based Ukulele & Singing Group, The UkeAlohas, started in 2016. One of the Staff (Coordinator, Jenni Granger), joined Des' first Ukulele Group at Surrey Hills, then asked if he could start up some Groups at BHCAC and the Adults & Children Groups have been continuing ever since then.
The UkeAlohas are a fun-loving, music-loving, diverse, yet united band of Ukulele enthusiasts; united in their love for the Ukulele; playing together; and most importantly playing for others.
The UkeAlohas have played at the Whitehorse Spring Festival, Surrey Hills Music Festival, Whitehorse Multicultural Festival as well as many other Community Events.
"I enjoy teaching & playing Music at BHCAC", Des said. "The facilities have a wonderful open, sunny, and airy feel, with good acoustics and artful surroundings; all conducive to encouraging us to sing and play with gusto. The Staff are great to work with too".
The UkeAlohas & Des believe that the joy of Ukulele and Music is a gift to be shared, and look forward to continue to share their celebration of the Ukulele, Music, and life!